Asset

Area

Working interest

Partner

Technical maturity

Seismic coverage

PEP 38264

14,493 sq. km
(offshore)

25%

Beach Energy (37.5%, operator)
O.G. Oil & Gas (37.5%)

Exploration

2D, 3D
Note: Discover's interest is held through its wholly-owned subsidiary Discover Exploration Canterbury NZ B.V.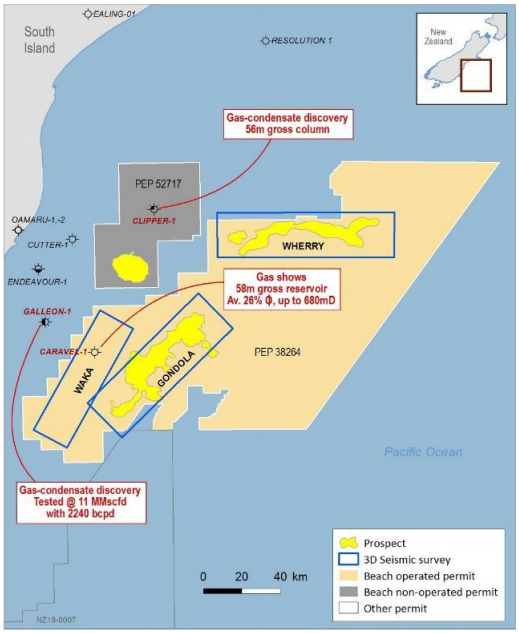 Introduction
PEP (Petroleum Exploration Permit) 38264 is situated in water depths of ca. 1,350 meters in the Canterbury Basin, off the Eastern coast of New Zealand's South Island.
The Canterbury Basin is largely underexplored. Several wells have proven the petroleum system but no commercial accumulations have yet been discovered.
New Zealand offers attractive fiscal terms, in a stable regulatory environment and with a transparent government.
Operations
The partnership will drill one exploration well before October 2021.
Overall, the Canterbury Basin will see greater exploration activity: OMV and Mitsui will drill the adjacent PEP 50119 in Q1 2020. New Zealand Oil & Gas and Beach Energy are envisaging drilling the adjacent PEP 52717 as well.
Prospectivity
The Canterbury basin has an active petroleum system and exploration of PEP 38264 offers significant upside potential.
Based on the latest 3D seismic survey and the Caravel-1 well results, the partnership has mapped multiple large (up to 600 km2 closures) 4-way structural traps (AVO/EEI supported) with P-mean prospective resources of multi-billion barrels of oil equivalent. Regional studies & 3D basin modelling suggests potential for oil in addition to gas and liquids.
They consist of transgressive shoreface/paralic sandstones draped over large 4-way closure complexes. Both are adjacent to thick mature pre/synrift source kitchens, providing excellent access to hydrocarbon charge. The prospects have 100-200 m shale prone seal intervals. In addition, at least 6 other leads have been mapped.